v3.0.1 added a new option to the menu – Florist Tools.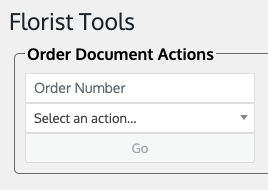 First, enter an order number.
Then, there are currently 3 options:
Resend tax invoice to customer
Download tax invoice
Download worksheet
These are based on our most frequently requested "how-to"s from BKF users – this enables you to take these actions without needing to locate and open the order itself.
Got an idea for something to include on the Florist Tools page? #
We'd love to hear it! Drop a post in the Support Forum on WordPress.org.