Use this feature to edit the list of built-in input masks that are displayed in the Text Field input mask setting. Useful when you need a custom input mask that will be used repeatedly.
Add #
After pressing the plus symbol next to Input Masks, this dialog will appear: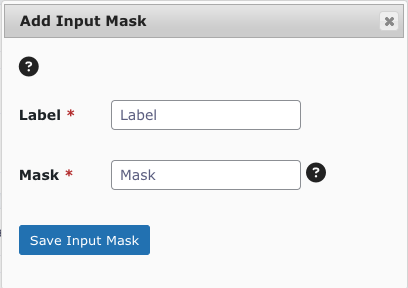 | Field | Purpose |
| --- | --- |
| Label | The label which will be displayed for the choice in the Input Mask setting, on the fields properties tab, in the form editor. |
| Mask | The mask that will be used when a user enters the field. Here are some examples |
After clicking Save Input Mask, the input mask will save and the page will refresh with the new input mask appearing in the table.
Delete #
Simply click the cross next to the mask's ID number, and confirm in the alert: